Vegetable combustion by pyrolysis and carbonization represents 33% solid and 67% gas. It consists of 3 phases:
Moisture evaporation up to 250°C
Self-combustion from 280°C
Catalysis at 800°C
Thanks to its refractory hearth and catalytic concentration grid technology, ECOPOLY 2 provides access to the 3 combustion phases via a high temperature briquette hearth and 3 smoke retarders. In addition, the dust in suspension falls back in self-combustion on the active embers by vibratory shock on the exchanger tubes. The efficiency of ECOPOLY 2 is thus 85% very well above European standards.
A protection and catalysation grid is positioned between the hearth and the exchanger. Designed and manufactured in refractory stainless steel, it is heated to more than 800°C by combustion. This plays a role of thermal protection against overheating linked to overloading and of catalyzing the passage of fumes from combustion. It guarantees that the flames resulting from the combustion of the essences never reach the exchanger which would risk damaging it. It also allows the refractory bricks to develop more mass heat.
It complies with standards 98/37/CE, 722/23/CE and 89/336/CE.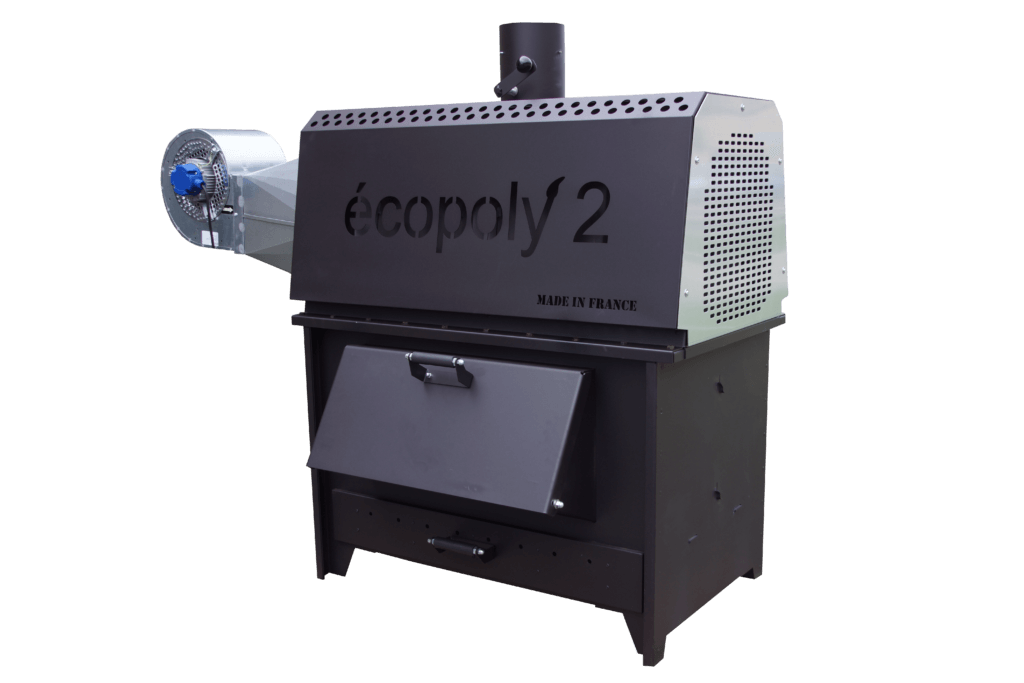 Manufactured entirely in France, ECOPOLY 2 is a compilation linked to the demands of our customer users, the essential security and normative needs as well as our technical developments of which ECOPOLY 2 is the technological embryo of our new biomass generations.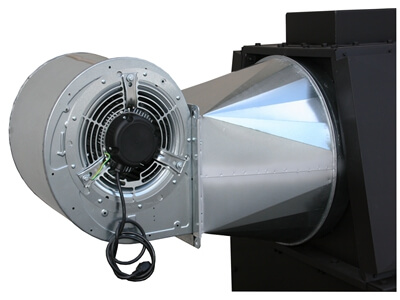 High pressure, it allows the connection of a duct network or accessories on the shell
(option) of opposite exchanger, Ø 400 mm for ECP 50.2 and 500 mm for ECP 100.2.
It can be positioned to the right or to the left of the ECOPOLY.
An AIRSTAT-type adjustable thermostatic probe, placed in a box (optional) controls the
in service and stopping the fan up to 40°C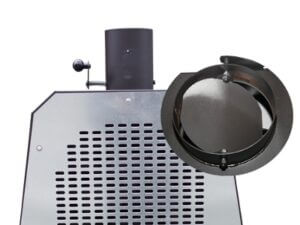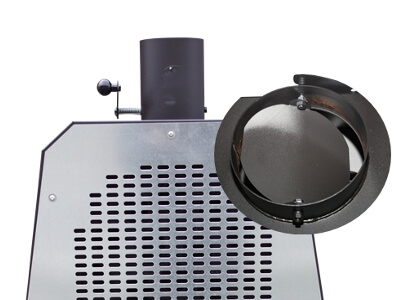 The draw key and overheating safety
Integrated, it allows you to manage the heating power by acting on the external lever in open/close modulation.
The overheating safety thermometer (option) allows you to view and control the smoke temperature at a nominal power of 270°C (maximum loading management, protects against thermal overheating)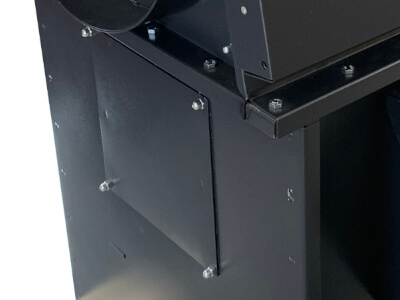 The ECP**A.2 models are equipped with a removable left-side hearth plate allowing the adaptation of a burner.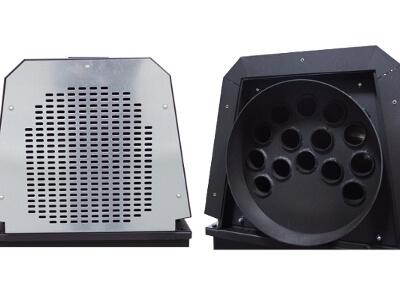 Tubular high efficiency, positioned over the entire length of the device, it guarantees a delta T
40 to 45°C of the air flow between suction and blowing.
As standard, the ECOPOLY is equipped with a blowing grille, as an option, a starting piece
allows the connection of a network of ducts or distribution accessories.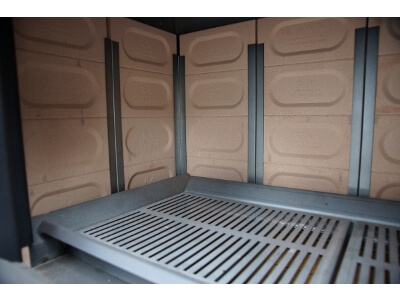 Il est conçu d'un briquetage réfractaire mécaniquement assemblé sans joint sur glissière et
dont les éléments sont interchangeables. Cette conception permet au foyer de garder une très
haute température créant ainsi un effet de post-combustion et une restitution de chaleur même
lorsque la puissance est réduite selon le principe du poêle Lorrain.
La grille de sol réalisée en 2 parties. est en INOX réfractaire AISI 430. Elle occupe la totalité de
la surface au dessus du tiroir garantissant ainsi une parfaite combustion des essences.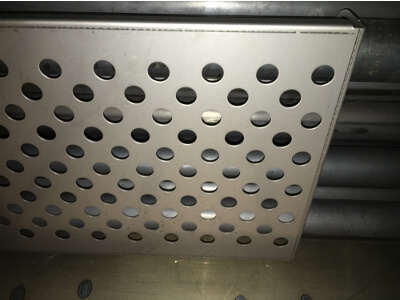 Perforated shield in refractory stainless steel, protects the exchanger tubes from thermal overloads and catalyzes the fumes before passing through the exchanger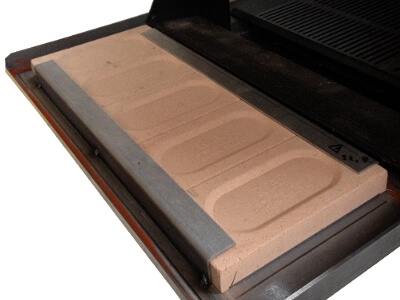 Tilting and entirely bricked, of large dimensions, it allows a load of logs of 70 cm (ECP 50.2) and 1 m (ECP 100.2) as well as pallets cut in 4 for the ECP50.2 or 2 for ECP 100.2.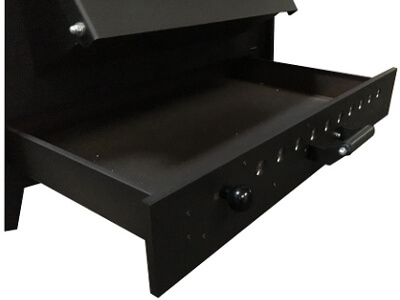 Integrated along the entire length of the device, it offers significant autonomy for recovery
ashes. Perforations and a regulation strip have been provided on the front for the air intake
combustion primary.